HANDMADE IN BELGIUM
A SUSTAINABLE GIFT
KIDS COLLECTION
CORK SUSPENDERS
Hi there, bowthusiast!
Welcome to Brainbows: where bowthusiasts find their perfect match of handcrafted bowties!
Oscar Wilde once said "a well-tied tie is the first serious step in life". That is why we don't sell ties.
Step into our world of eco-friendly Portuguese cork, where every bow tie is a work of art. Whether it's for work, weddings, or pure pleasure, our unique creations add a touch of funtastic flair to every occasion.
But here's the best part - you have the power to design and commission your very own bow tie, making it a true reflection of your individuality. Get ready to turn heads wherever you go.
That's the Brainbows effect.
So go ahead, explore and let your style shine. Welcome to Brainbows, where we're here to make you feel bowtiful.
You're welcome.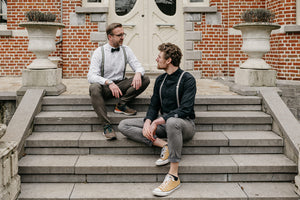 create your own style
Make a statement
natural cork fabric
choose sustainable
Timbows on sale!
After careful consideration and a lot of heart, we've decided to focus on what truly makes us unique: our gorgeous cork bow ties and braces!
Wooden Bow Ties Farewell Sale!
As we say goodbye to our charming wooden bow ties, we're giving you the chance to grab a piece of this unique collection at an incredible 50% off. Hurry, it's a limited-time offer until our wooden bow ties find their new homes.
Snatch your favorites at half the price before they vanish!
Discover our braces collection
Gift sets
Handmade with love
kids braces
WHAT OUR CUSTOMERS SAY
Wij zijn helemaal fan van deze bijzondere vlinderdas! Het oogt stijlvol en is toch toegankelijk voor kinderen. Te combineren op speelse outfits maar ook klassiek. Blijft netjes op zijn plaats zitten en is niet vervelend aangezien je het in grootte kan aanpassen voor ieder nekje. Kortom, hét ideale accessoire voor stoere, modebewuste jongens!

Anneleen
Om mijn trouwkostuum volledig te maken besloot ik een originele strik te zoeken. Al snel kwam ik terecht bij BrainBows.
Dankzij een aangename samenwerking kwam ik snel tot een strik die perfect bij mijn kostuum paste.
Zeer tevreden van de kwaliteit en service!

LennertM
Toevallig tegengekomen op instagram, meteen verliefd geworden op deze strikjes en daags nadien al eentje gaan halen bij Ellen van Brainbows (topdame).
De Dirty Martini valt bijvoorbeeld te combineren op een lichtblauw, effen hemd: echt een ferme look!
Een dikke dankjewel aan Brainbows om de wereld mooier en gestrikter te maken!

Jean
Een unieke strik voor een unieke gelegenheid. We streven ernaar onze ecologische voetafdruk ook door te duwen in ons huwelijk. We bannen vlees, rijden elektrisch naar de locatie, hebben biologisch afbreekbare huwelijkscadeaus en deze strik past perfect in de boodschap die we willen overbrengen! Bedankt voor de snelle opvolging, levering en het duurzame/kwaliteitsvolle product!

Dries
Mijn zoontjes zijn grote fan van de kurken strikjes! Wegens succes extra kleurtjes besteld. Elk feestje vragen ze ernaar... op een short, een jeans of geklede broek... steeds TOP! En vooral de complimentjes die je krijgt over guitige kids :) Ze zijn makkelijk aan te doen en te dragen... én het zit steeds perfect op zijn plaats!

Sofie
Got big plans?
Looking for the perfect accessories for the big day? Don't sweat it. We've got you covered, with bow ties, cufflinks, braces and pocket squares.
At Brainbows, we specialize in creating exceptional bow ties that add a touch of personality and style to your wedding ensemble.
Our collection of handcrafted bow ties is designed with grooms in mind, ensuring you'll find the ideal accessory to complement your suit and reflect your individuality.
Each bow tie is meticulously crafted from sustainable materials, including our signature cork fabric, which adds a touch of eco-friendly elegance.
Make a statement as you say "I do" with a personalized and engraved bow tie, offering a sentimental touch that will be treasured forever. Our packaging is designed with the utmost care, ensuring that every detail contributes to a memorable unboxing experience.
Ready to elevate your wedding style? Head over to our Groom's Collection page now and discover the bow tie that will make you feel confident, dashing, and ready to say 'yes' to forever."
Feel free to contact us through the form for more information or to discuss your own ideas.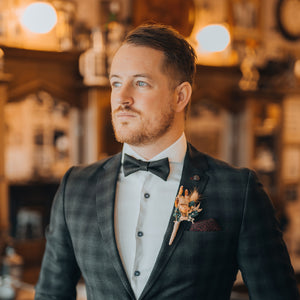 Make yourself a brainbows vip
Promotions, new products and sales. Directly to your inbox.