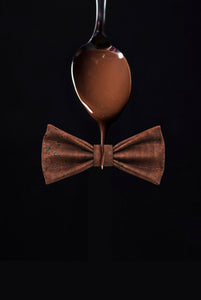 From chocolate drips to champagne sips ... our bow ties bring the vibe!
Dive into a world of bow tie enchantment! Our cork bow ties aren't just accessories, they're expressions of color, style, and personality.
From the rich, velvety depths of our Hot Chocolate Hipbow to the effervescent shimmer of Pink Champagne, each bow tie tells a unique story. Explore the spectrum of shades and discover the bow tie that resonates with your inner vibes. 
Life's too short for boring accessories, and that's why we've got a bow tie for every mood, occasion, and personality! From classic neutrals to vibrant bursts of color, our Hipbows collection has you covered.
Whether you're suiting up for a formal event, adding a pop of color to your everyday attire, or simply making a bold fashion statement, our handcrafted cork bow ties are designed to help you express your true self.
With endless possibilities, you can mix and match our Hipbows to fit your style, personality, and mood. It's time to step up your accessory game and let your imagination run wild!
---